Milo Greene - Milo Greene
These California formed indie/folk band are releasing there self title debut album in the UK on the 21st of January but in America its been released since July. Some of the songs have been used in TV shows such as supernatural. The album is something I'm looking forward to the songs are rich in quality and the singers have interesting voices which are easy to listen to. Plus the cover art is cool. Also UK viewers a song off there album is free on iTunes as there single of the week.
A$AP Rocky- Long. live.A$AP
This album released by American rapper A$AP Rocky is his first since his critically acclaimed mixtape LiveLoveA$AP. You may know him from the national anthem video released by Lana Del Rey (in my music of 2012 post) and he also recorded a song with her as well. From the songs I've heard off this album I think fucking problems stands out but I'm excited to her the rest. If you go on his Soundcloud he's put three songs up and fucking problems can be bought. With A$AP having huge potential and features from Pharrell, Drake and Florence Welch. This Album will be big.
Everything Everything - Arc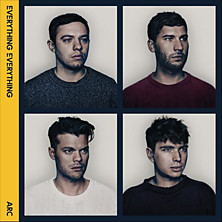 Searching through iTunes pre-order chart and saw this started to listen and it caught my ear. I've never heard of this band but it's there second album, the first being man alive. Listening to some of the preview of the songs there is some different sounds from slow kinda ballads to rather dance indie music and stuff in between but this album is something I'm really looking forward to. 14 January is when its released.
TTFN